Reactors can be built in accordance with Section VIII Division 1 or Division 2 of the ASME Code, and are stamped and registered with the National Board.
As a policy, only the the most advanced welding procedures and methods are used.
Dimple Jackets are best utilized for moderate heating and cooling utilizing steam or chilled water. RAS's innovative dimpled stayed jacket design, permits thinner vessel wall construction using lighter gauge materials.
Nickel Alloy Jackets are recommended when the heat transfer medium contains chlorides or other stress corrosion cracking elements. Jackets can be configured as either singe or multi-zoned
Half Pipe Coils are best suited for high temperature and pressure applications utilizing hot oil or other high temperature media.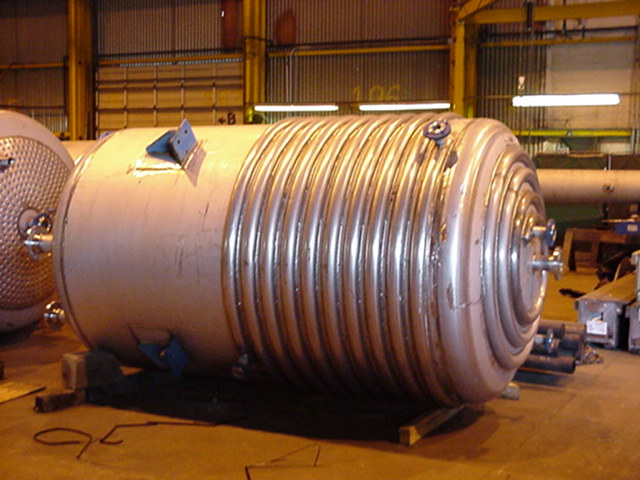 RAS half pipe coil design is a full 180º half pipe configuration that minimizes pressure and increases fluid velocity.
Materials of construction:
Vessel wetted parts:Stainless Steel, Duplex Stainless, Nickel Alloys, Clad, Titanium.
Jackets: Stainless Steel, Nickel Alloys Titanium.

Dimple Jacketed Reactors
Non-wetted parts: such as supports, Carbon Steel with matched material, Back up pads.
Finishes:
Standard mill finishes inside and out.
Internal Polished Finish: From a commercial grade no.3 to a pharmaceutical grade no.7 (320grit 10 RA) and electro-polishing are available.
External Polished Finish: A commercial grade no.3 and no.4.
Options:Flush bottom ball valves, Plug valves, Sight glasses, Level gauges and Quick opening manways.
Custom sizes and configurations available.